Usually around this time of year we'd have wall-to-wall live shows celebrating our latest milestone but alas, at the moment that just simply isn't possible. So instead we thought we'd run a competition to bring the party to your place….and you can invite your mates as well!
The winner of this competition will win their very own Comedy Store birthday party. You'll get a ticket to watch our Comedy Store Live stand-up stream this Saturday night plus a crate of beer delivered to your house. You'll also get four additional show links to share with your friends so you can all watch the show together, even though you're apart. Like any good party though, they'll have to bring their own beer! You'll also get a personalised message from one of the comics performing and an additional mystery prize that we can't talk about just yet.
To enter the draw, simply head over to either our Facebook, Instagram or Twitter pages tomorrow from 10am, find the competition posts and tag the 4 people you think deserve to join you in this celebration. We'll then enter your name into the hat and pick the winner on Thursday evening. After that, all that's left to do is to pick up chips 'n' dips.

Plus that's not all we have in store for our birthday. Stay tuned to our social channels throughout the day for some recently-rummaged archive stuff and keep an eye on your inbox for "This Week At The Comedy Store" which rounds up all the free content you can watch on Youtube this week.
Finally (yes there's more!) we have one more delectable draw for you to take part in. If you purchase a ticket tomorrow to this weekend's Comedy Store archive stream, you'll go into the hat to win two tickets to a full real-life show at The Store once we reopen. We'll even chuck in a bottle of prosecco! Only valid on tickets bought tomorrow between 6am – 11.59pm on May 19th so don't delay!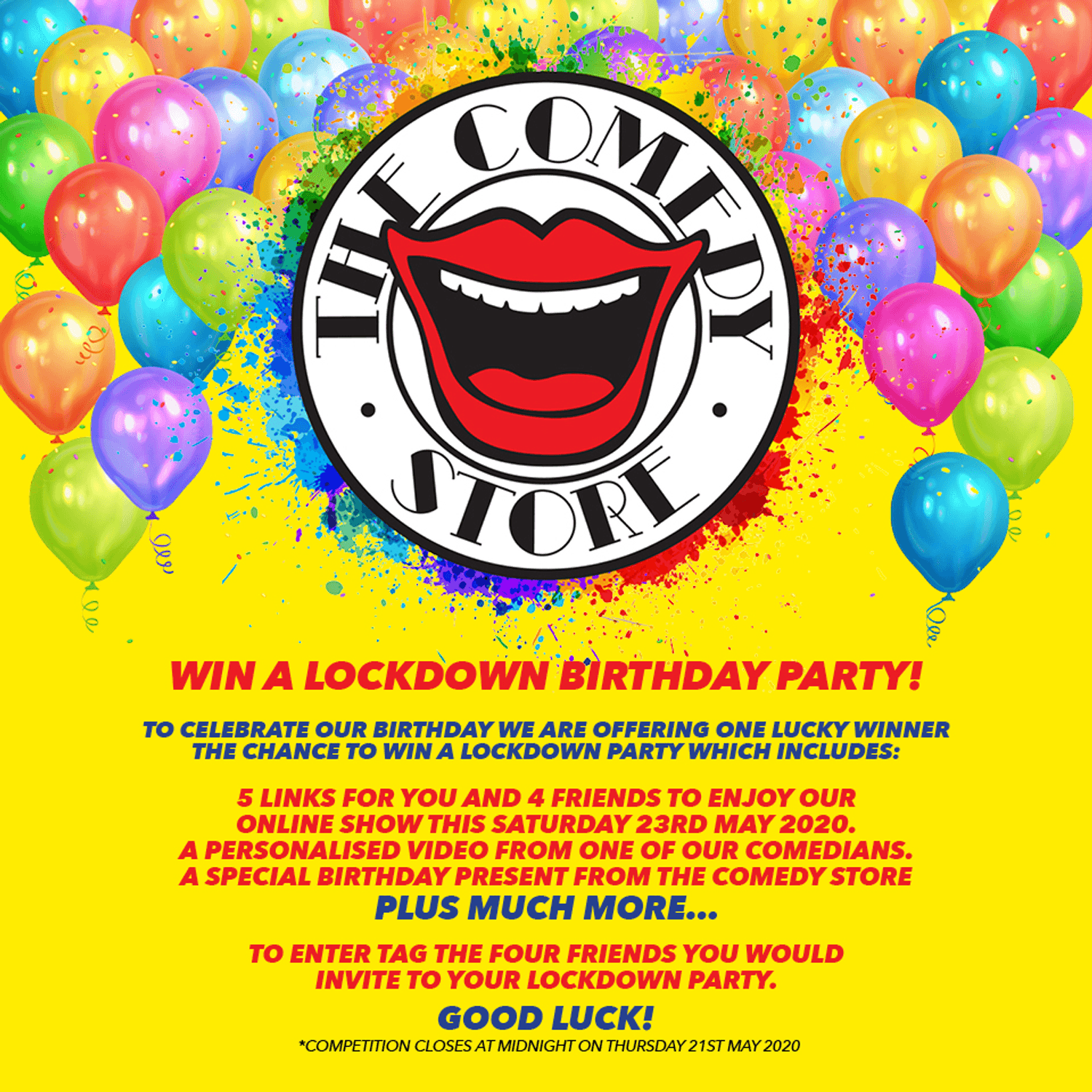 How lucky are we?